Description
This Lara Croft Sex Doll looks as sexy as she does in the Tomb Raider games!
Tomb Raider is a huge gaming franchise. This Lara Croft sex doll lets you live out your fantasies. You can relive your first Tomb Raider game. Now instead of gaming with Lara Croft, you can play with her thanks to this incredible sex doll. Game Lady Dolls, known for their lifelike character dolls, made this amazing creation.
Sexy And Dangerous!
Game Lady Dolls excel at creating realistic dolls, like this Lara Croft sex doll. She looks from the Tomb Raider, Rise of the Tomb Raider, and Shadow of the Tomb Raider games. Her face looks amazing, that same blend of sexy and determination that she has in the game! This version of Lara Croft looks like a real person.
Two Big Lara Croft Assets!
Ever since the first Tomb Raider released in the mid-90s, people know Lara Croft for her two big assets! What is great about this Lara Croft sex doll is that Game Lady Dolls have given her the modern, sleek, and athletic look. But those large breasts that were wowing us all in the 90s! Speaking of athletic, thanks to the incredible design of the joints, you can get her into all kinds of action packed poses! You can pose her with a bow and arrow to make her look like she does in the game, or you can pose her in a multitude of sexy ways so that you can go on your own adventure exploring her body!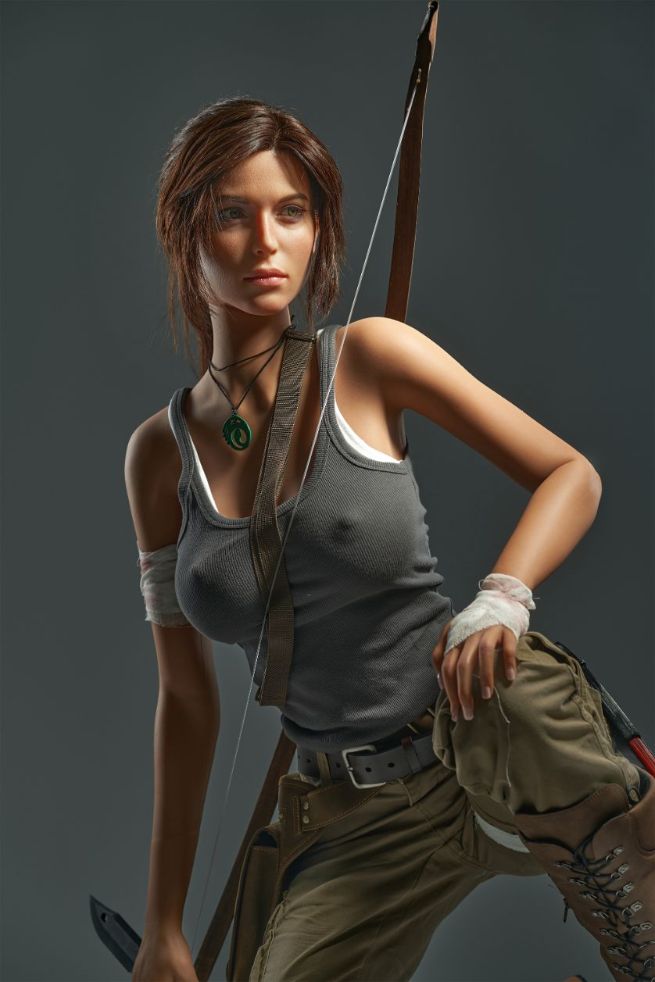 Dressed In Less
While Lara certainly looks sexy, her outfit here is modeled after the way she looks in the most recent Tomb Raider trilogy of games. From that tank top to the combat pants and boots, she looks like she has just come out of your TV and into your home, that is how authentic her outfit here is. As this is a Lara Croft sex doll, there is a twist. That tank top that she was running around jungles, caves, and bases in is much tighter here, showcasing those huge breasts of hers and perky nipples! It is a very clever way to make her look just like she does in the games, but super sexy at the same time.
Feeling Your Way Around The Tomb!
You can clearly see that this Lara Croft sex doll has absolutely nailed the look of the modern Lara Croft! Fans all over the world love this new design that was introduced in Tomb Raider in 2013 and Game Lady Dolls has recreated it perfectly here. However, this doll also feels amazing to touch, The special skin that they have used makes her feel so real and you do not have to worry about going on some dangerous Lara Croft style mission to find something to keep her clean! This doll is very easy to maintain, taking no time at all to clean out so that she is ready for the next erotic and dangerous mission you take her on!
Explore Adventure with the Lara Croft Sex Doll
Embark on an exciting journey of passion and fantasy with our Lara Croft Sex Doll – a captivating creation inspired by the iconic character from the renowned game and TV show, Tomb Raider. Indulge in the allure of this lifelike companion that embodies the spirit of adventure and sensuality, offering an experience beyond imagination. Our classic nostalgic Lara Croft Tombraider love doll makes fantasy become reality.
Lara Croft Sex Doll Features
Official partner with: Game Lady Dolls. Presenting full silicone Gaming Icons.

Fantasy sex dolls have designs inspired by gaming, TV series, and fantasy themes. Fans can make their favorite characters come alive. 

Combine them with a cosplay outfit for the ultimate experience.

The dolls showcase artistic sculpting and details. Facial features and unique characteristics make them stand out.

Collectors and fans love limited edition

fantasy

sex dolls, they are unique.
Tebux – Fantasy made Reality
Fantasy:

Our Tebux sex dolls make fantasies come true with amazing customization choices.

Lifelike Skin:

The Lifelike skin our love dolls have makes them feel real

Authentic Poses:

Our sex dolls have a unique skeleton that allows them to move in various poses.

Custom Made:

Check our 50 customization options and make your fantasy reality.

Quality Tested

: We test all Tebux sex dolls to ensure premium quality in every regard.

Satisfaction Guaranteed:

We want you to be completely satisfied with your sex doll. Your happiness is our goal.

Easy Maintenance:

Taking care of our premium sex dolls could not be any quicker or easier.

Free Shipping:

We offer free shipping all over the world!

Discreet:

Our packaging is very discreet. You can also use it to store your doll.

1 Factory:

Every part of your order comes from one factory, so you get top-notch quality and service.

Extra Gifts: We offer useful free gifts to help with the maintenance of your premium sex doll
Measurements: