Description
Make loud noise with this Quiet sex doll from Metal Gear Solid!
Quiet, a character from Metal Gear Solid, is among the sexiest video game characters. She is a true badass, switching between good and evil. Now you can enjoy all aspects of this incredible Quiet sex doll and have fun with her! Be sure to be careful as her tempter is legendary!
The Eyes Of A Sniper!
Game Lady Dolls designed this Quiet sex doll, and its likeness is second to none! They have captured that stern, cold, and badass look that Quiet has. Her face reveals her thoughts of using Wicked or Sinful Butterfly sniper rifles. This is not some random looking woman that they have made and then slapped a Quiet costume on! Game Lady Dolls have made sure to capture her face. This lets you live out your ultimate fantasy!
Don't Try To Make Her Wear More Clothes!
This Quiet sex doll is great because she looks like a video game character and real person! Quiet in the lore wears revealing clothes because she breathes through skin. She had a life-saving "parasite-treatment." She pretty much struts around taking people down with her sniper rifles. All the while wearing next to nothing! As Game Lady Dolls are as authentic as possible, her outfit is perfect! From that sexy black bra to the see through pants that show off her perfect butt in a thong! Out of all the premium sex dolls on offer, Quiet has one of the most revealing outfits!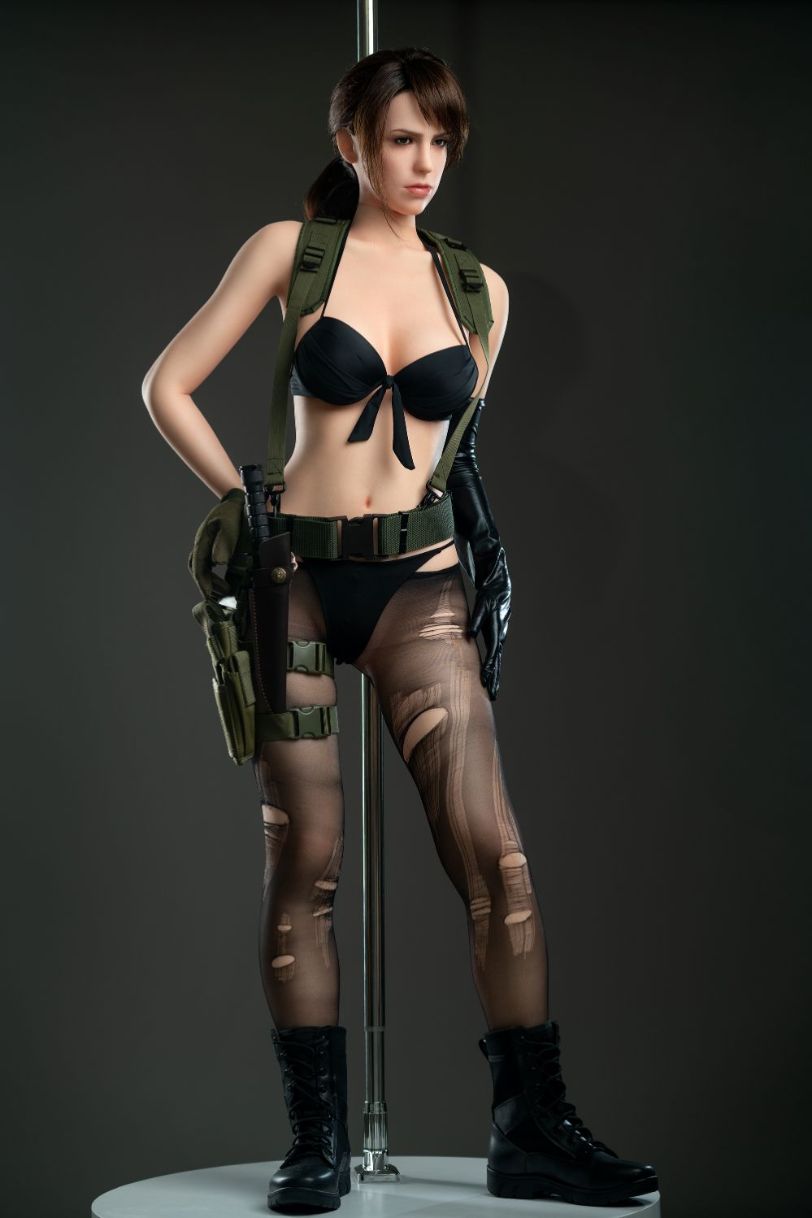 The Perfect Position For The Perfect Shot
Quiet is an excellent sniper in Metal Gear Solid. Game Lady Dolls allows you to pose her in any way you want. You can make her pose with her Sinful Butterfly sniper rifle, looking cool! Any Metal Gear Solid collector would love having her on display. Her flexible joints and strong bones allow for various intimate positions. Enhancing your pleasure and fulfilling fantasies. Best of all, you do not even need to go Psycho Mantis to get some mind control tips! She is yours and yours do with as you wish!
The Perfect Touch!
She looks like she does in the Metal Gear Solid video game. You can pose and play with her in any position you want. This Quiet sex doll feels as close to real as possible. Game Lady Dolls have a unique material for the skin that feels real to the touch. Her skin is crucial to her character, so attention to detail is crucial here! You do not even need to ask Venom Snake for permission before you take her on a wild and XXX mission! You do not have to worry about waiting a while for your next erotic experience. Game Lady Dolls has made sure that cleaning and maintaining your sex doll is as easy as can be.
Quiet Sex Doll Features
Official partner with: Game Lady Dolls. Presenting full silicone Gaming Icons.

Fantasy sex dolls have designs inspired by gaming, TV series, and fantasy themes. Fans can make their favorite characters come alive. 

Combine them with a cosplay outfit for the ultimate experience.

The dolls showcase artistic sculpting and details. Facial features and unique characteristics make them stand out.

Collectors and fans love limited edition

fantasy

sex dolls, they are unique.
Tebux – Fantasy made Reality
Fantasy:

Our Tebux sex dolls make fantasies come true with amazing customization choices.

Lifelike Skin:

The Lifelike skin our love dolls have makes them feel real

Authentic Poses:

Our sex dolls have a unique skeleton that allows them to move in various poses.

Custom Made:

Check our 50 customization options and make your fantasy reality.

Quality Tested

: We test all Tebux sex dolls to ensure premium quality in every regard.

Satisfaction Guaranteed:

We want you to be completely satisfied with your sex doll. Your happiness is our goal.

Easy Maintenance:

Taking care of our premium sex dolls could not be any quicker or easier.

Free Shipping:

We offer free shipping all over the world!

Discreet:

Our packaging is very discreet. You can also use it to store your doll.

1 Factory:

Every part of your order comes from one factory, so you get top-notch quality and service.

Extra Gifts: We offer useful free gifts to help with the maintenance of your premium sex doll
Measurements: