Description
The sexiest netrunner from Cyberpunk can be yours with this incredible Lucy sex doll!
This Lucy sex doll is from the Netflix anime series Cyberpunk Edgerunners. It's an extension of the video game Cyberpunk 2077. Fans of the series will love this incredible collectible item. The doll's appearance is mind-blowing. This is amazing as you can live out your own exciting and sexy adult XXX adventures with Lucy! You can have her hack the system and then spend an erotic evening with you in Night City as a way to celebrate!
Those Eyes And Lips!
What makes this Lucy sex doll one of the best anime sex dolls is the authenticity of her. Lucy has such a unique look in the Cyberpunk series that she is one of the most recognizable characters. Her red lips and red makeup around her eyes have look the same on this amazing recreation of Lucy! There is no way that a hardcore fan of Cyberpunk: Edgerunners is going to look at this and not realize who it is. We have captured her hair as well. You can live out your fantasy with our Lucy.
Ready For Any Kind Of Action!
We have captured her face so well that this Lucy sex doll looks alive! We do get to see Lucy naked a fair bit in the Cyberpunk show. But before that, she looks so sexy in that tight black leotard and those hot and alluring knee high boots! These touches make this anime sex doll high end. You can bring your sexual fantasy to life with her because she looks so real.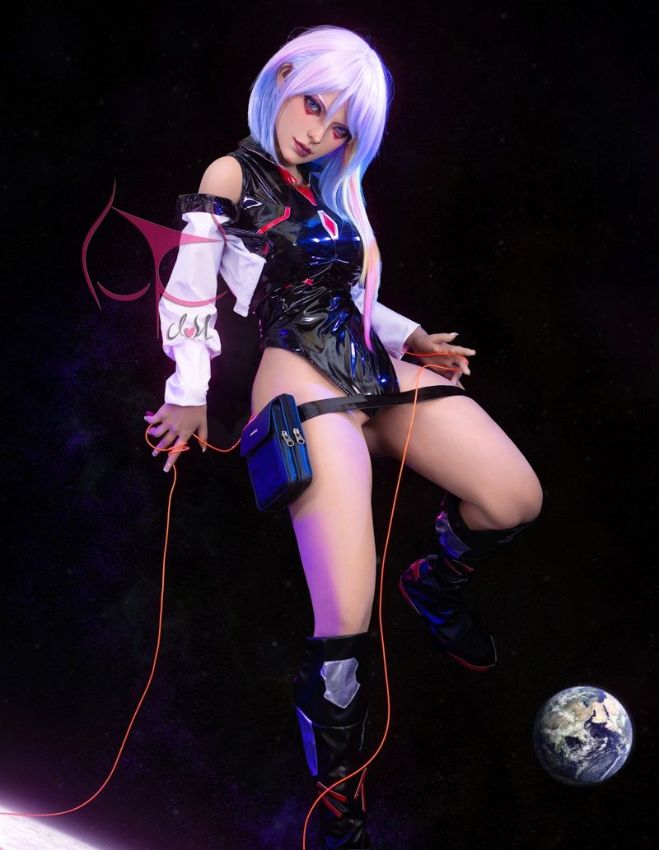 No Need To Ice Those Joints!
Fans know that Lucy enjoys taking a refreshing ice bath. She runs through the streets of Night City. evading bullets and other enhanced individuals. It's no surprise that she needs the ice bath after all that! The Lucy sex doll has designed joints that let you position her in different poses. You can explore her cybernetic enhancements while having fun with her. You can pose her with clothes on, and she'll still look like an impressive statue.
Lucy Enjoys Being Touched!
As you know, Lucy is not scared to put someone in their place if they get on the wrong side of her. You can touch and do whatever you want with this Lucy sex doll without any danger. Spending time with her is great. Her lifelike skin makes it even better. This is not like those horrible plastic and rubber sex dolls from the 90s! This is as close to the real thing as you can get! Lucy has a special skin that looks real. It makes you feel like you're in Night City with her. Plus, this special skin is made with keeping clean in mind! No matter how crazy your night gets with Lucy in Night City, cleaning up is quick.
Lucy Sex Doll Features
Make her special by modifying her with our 50 customization options.

Fantasy sex dolls have designs inspired by gaming, TV series, and fantasy themes. Fans can make their favorite characters come alive. 

Combine them with a cosplay outfit for the ultimate experience.

The dolls showcase artistic sculpting and details. Facial features and unique characteristics make them stand out.

Collectors and fans love limited edition

fantasy

sex dolls, they are unique.
Tebux – Fantasy made Reality
Fantasy:

Our Tebux sex dolls make fantasies come true with amazing customization choices.

Lifelike Skin:

The Lifelike skin our love dolls have makes them feel real

Authentic Poses:

Our sex dolls have a unique skeleton that allows them to move in various poses.

Custom Made:

Check our 50 customization options and make your fantasy reality.

Quality Tested

: We test all Tebux sex dolls to ensure premium quality in every regard.

Satisfaction Guaranteed:

We want you to be completely satisfied with your sex doll. Your happiness is our goal.

Easy Maintenance:

Taking care of our premium sex dolls could not be any quicker or easier.

Free Shipping:

We offer free shipping all over the world!

Discreet:

Our packaging is very discreet. You can also use it to store your doll.

1 Factory:

Every part of your order comes from one factory, so you get top-notch quality and service.

Extra Gifts: We offer useful free gifts to help with the maintenance of your premium sex doll
Measurements: