Description
This Jolyne sex doll brings the fun of JoJo's Bizarre Adventure to life!
As the sixth JoJo in the JoJo's Bizarre Adventure series, Jolyne is also the sexiest! This Jolyne sex doll captures why she has been such a popular character in the series! Jolyne has a stern, sexy look most of the time because of her complex past. Whether you want to display it or play with it, this is the perfect doll for any fan. You'll have a blast!
Punching Her Way Into Your Home
This Jolyne sex doll has is as lifelike as possible. Made by fans for fans, this is the kind of thing that is sure to make you smile. No matter if you are a fan of Jolyne from the manga, anime, or even one of the JoJo's Bizarre Adventure video games. She is going to put a huge smile on your face every time you see her. Make sure you do not mess her around as she may use Stone Free Stand on you!
Sexy And Strong
One of the things that does set this Jolyne sex doll apart from all the rest is her look. She looks serious, like she's ready to handle something, but you decide if it's in the streets or bedroom. A huge part of the fun here is that this doll has these amazing articulated joints. You can position her in any way you like for different poses or sexy positions to have fun.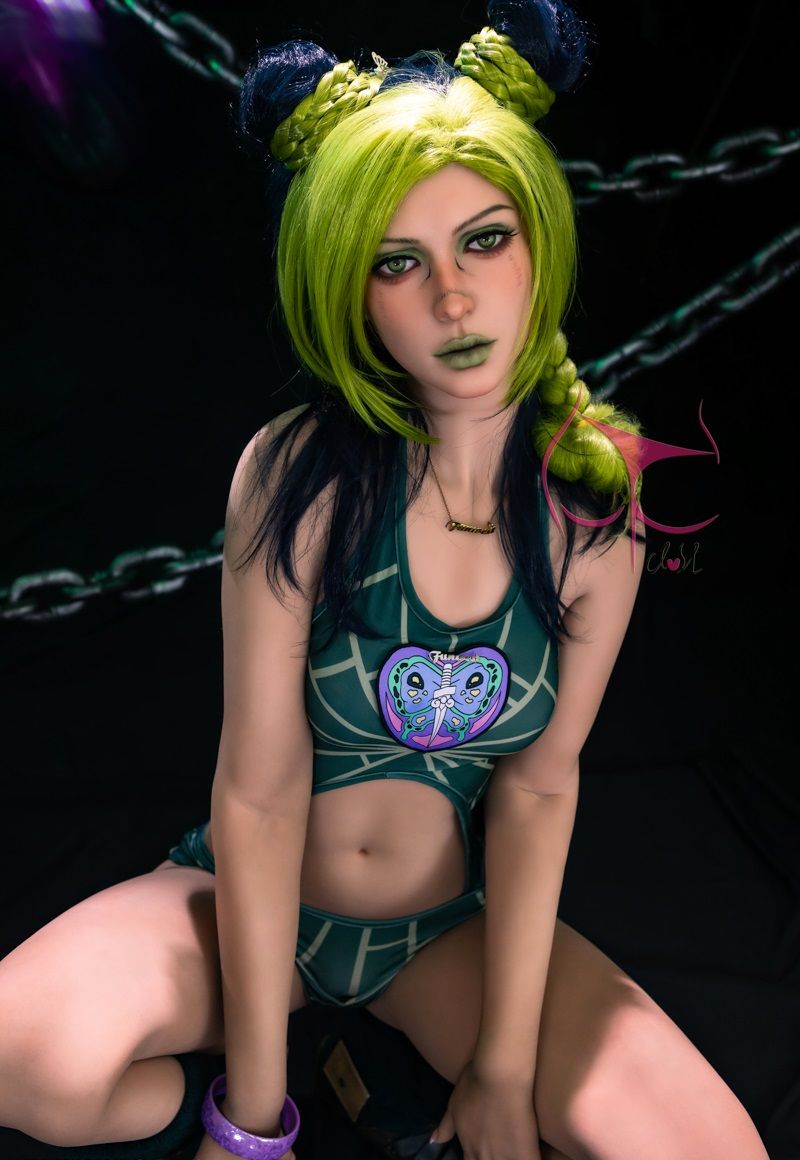 Trapped In Her Spider Web
Jolyne has had many memorable looks in JoJo's Bizarre Adventure. For this Jolyne sex doll, we decided to make her look sexy, but also as authentic as possible too. She is wearing a skimpy suit that leaves little to the imagination. The suit has her classic spider web design. Jolyne has cute and practical hair, perfect for a fight. When you see her lips, you know it's her. Not only does this Jolyn sex doll look great, but it also feels real to the touch.
Keeping Up With Her
One thing that is for sure when it comes to Jolyne is that she loves to throw down when the time calls for it! It is one of the things that fans of JoJo's Bizarre Adventure love about her. Are you wondering how difficult it will be to keep this beautiful Jolyne sex doll clean? It is actually very simple! No matter how you play with it. It's easy to clean and maintain its sexy appearance for years. It is so easy to see why for decades now JoJo's Bizarre Adventure has remained so popular. Jolyne is an amazing character who adds depth to the evolving storyline. Now you can have some fun with your very own Jolyne sex doll or even have it as a centerpiece for your collection!
Jolyne Sex Doll Features
Make her special by modifying her with our 50 customization options.

Fantasy sex dolls have designs inspired by gaming, TV series, and fantasy themes. Fans can make their favorite characters come alive. 

Combine them with a cosplay outfit for the ultimate experience.

The dolls showcase artistic sculpting and details. Facial features and unique characteristics make them stand out.

Collectors and fans love limited edition

fantasy

sex dolls, they are unique.
Tebux – Fantasy made Reality
Fantasy:

Our Tebux sex dolls make fantasies come true with amazing customization choices.

Lifelike Skin:

The Lifelike skin our love dolls have makes them feel real

Authentic Poses:

Our sex dolls have a unique skeleton that allows them to move in various poses.

Custom Made:

Check our 50 customization options and make your fantasy reality.

Quality Tested

: We test all Tebux sex dolls to ensure premium quality in every regard.

Satisfaction Guaranteed:

We want you to be completely satisfied with your sex doll. Your happiness is our goal.

Easy Maintenance:

Taking care of our premium sex dolls could not be any quicker or easier.

Free Shipping:

We offer free shipping all over the world!

Discreet:

Our packaging is very discreet. You can also use it to store your doll.

1 Factory:

Every part of your order comes from one factory, so you get top-notch quality and service.

Extra Gifts: We offer useful free gifts to help with the maintenance of your premium sex doll
Measurements: