Description
The beauty & strength of our Mikasa Sex Doll from Attack on Titan!
Mikasa Ackerman is the only one left from her family. She is a beloved character in Attack on Titan. With this Mikasa sex doll, you can have an incredible life like replica of her to do whatever you want! Because she can be intimidating on the show and has a no-nonsense attitude, it's best to start off on her good side. Any fan of the series is going to love having it as part of their collection.
The Scars Of War
One thing that you Attack on Titan fans are going to love about this Mikasa sex doll is how authentic she looks. Fans made this, and that shines through with how real she looks. Mikasa may look sexy, but she also has a stern and fierce personality. She has the scar under her right eye from Eren's Titan during the Battle of Trost District. You'll love the incredible attention to detail. It will make you feel like you're spending quality time with the real Mikasa.
Not Scared To Throw Down Or Get Down
Mikasa is a strong soldier who will do anything for her friends, including you! Thanks to the well-designed joints, this Mikasa sex doll can be positioned in various ways. You can make her pose exactly like she does in Attack on Titan. She would be the perfect addition to any collection. These flexible joints allow you to position her in various sexy poses. You can have fun after battling evil skinless Titans all day.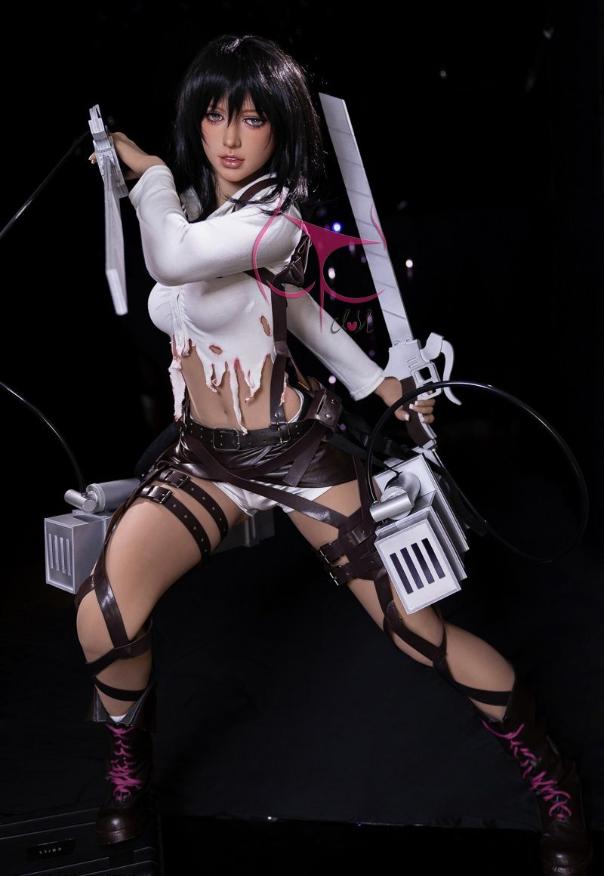 Ready For Any Kind Of Action with our Mikasa Sex Doll
The Mikasa sex doll's impressive facial features make her look lifelike. Her outfit also contributes to her resemblance to a character from Attack on Titan. The design is both battle-ready and celebratory, making it perfect for any occasion. She has a very sexy, but tough kind of look that you are sure to love! Not only does she look great, but her skin feels real because it's made of medical-grade material!
Getting Ready For The Next Titan Encounter!
This Mikasa sex doll looks like her and is a great companion for any Attack on Titan fan. We ensure that she looks as close to the real thing as possible. No matter if you two are at war with a Titan or if you two have been getting into some kinky fun in the barracks after a battle. Mikasa is going to need little help staying clean and looking her best. Don't worry about cleaning and maintenance. She's designed to be easy to clean, so you can have fun fighting Titans for many years!
Mikasa Sex Doll Features
Make her special by modifying her with our 50 customization options.

Fantasy sex dolls have designs inspired by gaming, TV series, and fantasy themes. Fans can make their favorite characters come alive. 

Combine them with a cosplay outfit for the ultimate experience.

The dolls showcase artistic sculpting and details. Facial features and unique characteristics make them stand out.

Collectors and fans love limited edition

fantasy

sex dolls, they are unique.
Tebux – Fantasy made Reality
Fantasy:

Our Tebux sex dolls make fantasies come true with amazing customization choices.

Lifelike Skin:

The Lifelike skin our love dolls have makes them feel real

Authentic Poses:

Our sex dolls have a unique skeleton that allows them to move in various poses.

Custom Made:

Check our 50 customization options and make your fantasy reality.

Quality Tested

: We test all Tebux sex dolls to ensure premium quality in every regard.

Satisfaction Guaranteed:

We want you to be completely satisfied with your sex doll. Your happiness is our goal.

Easy Maintenance:

Taking care of our premium sex dolls could not be any quicker or easier.

Free Shipping:

We offer free shipping all over the world!

Discreet:

Our packaging is very discreet. You can also use it to store your doll.

1 Factory:

Every part of your order comes from one factory, so you get top-notch quality and service.

Extra Gifts: We offer useful free gifts to help with the maintenance of your premium sex doll
Measurements: