Description
Straight out of The Last of Us comes this incredibly and very lifelike Ellie sex doll!
One of the most critically acclaimed video game series of all time is The Last of Us and its sequel, The Last of Us Part 2. Made by the experts in authenticity at Game Lady Dolls, this Ellie sex doll is an absolute work of art! She looks just like she did in the hit video game, but there is a bit extra sexiness about her! You would not mind being on the run from Clickers or bandits if you were hiding in a house with her that is for sure!
All Grown Up Now
Game Lady Dolls clearly have taken inspiration not from the first, The Last of Us video game for their Ellie sex doll, instead they have gone for the more mature and fiery version of Ellie from The Last of Us Part II. It is truly remarkable how they have managed to capture the likeness of her face here. However, as the world that Ellie lives in is very, very harsh, they have given her some softer features to make her look that extra bit cute and sexy! You would leave the Jackson safe zone village to look for supplies if this sexy version of Ellie shot you a smile that is for sure!
One Tough Chick!
What sets a Game Lady Dolls product apart from the rest is their attention to detail and the way that they go above and beyond to ensure that their dolls capture the likeness of the character as closely as possible. With this Ellie sex doll, they have made sure to give her the outfit that we see her wearing at the start of the second, The Last of Us video game. It is a very clever choice too as it means when you do strip her out of those jeans and vest, you will appreciate how sexy she is even more! Game Lady Dolls want you to have the most authentic erotic experience with Ellie as possible and that is why so much care has been put into ensuring her outfit resembles the game as closely as possible. The jeans even have a couple of rips in the knee, perhaps from running away from a clicker or perhaps from a roll in the grass with Dina!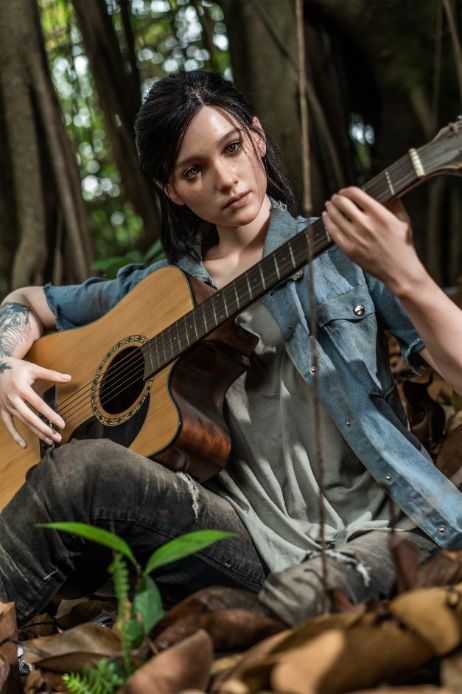 Strumming Her Guitar
Another reason why this Ellie sex doll from Game Lady Dolls is so fantastic is that the possibility here is second to none! You can put a guitar in her arms and pose her just like she is in The Last of Us. It is not an exaggeration to say that this is more than just a sex doll, it is a work of art! Of course, living out your wildest fantasies that you had while playing The Last of Us Part II is what this is all about and that is 100 percent possible here. Well, the sexual fantasy part is thanks to those amazingly supple and movable joints that allow you to put her in any XXX position you desire. You may just have to keep the noise down if there are Clickers and Bloaters in the area!
Her Special Mark
Not only does this Ellie sex doll from The Last of Us look amazing and can also be posed in any way that you desire. She also feels incredible to touch! The quality of the skin used in a Game Lady Dolls product truly is the best on the market right now. No other skin feels as close to the real thing as this! It makes any erotic session you spend with Ellie feel as close to the real thing as possible. However, as they are all about authenticity, they have made sure that you really feel like you are spending time with the real Ellie as they have done an incredible recreation of her tattoo to hide her bite mark! Once you guys have finished taking down a bunch of the infected or having a secret rendezvous, you do not have to worry about making sure Ellie is clean for the next round! Maintaining and cleaning her is so simple that it takes no time at all!
Ellie in The Last of Us is truly a very special character and her portrayal in The Last of Us Part II had many people falling in love with her and wondering what it would be like to spend life on the road or in a settlement hiding from the infected! Well, you can now get as close to that fantasy as possible thanks to this phenomenal Ellie sex doll that captures her look and attitude perfectly!
Advantages and Features of Fantasy Sex Dolls 
Official partner with: Game Lady Dolls. Presenting full silicone Gaming and TV-serie Icons.
Fantasy Sex Dolls like Ellie come with imaginative and captivating designs inspired by gaming, TV series, and other fantasy themes, allowing collectors to bring their favorite characters to life.
She wears unique and elaborate outfits, featuring vibrant colors and fantastical elements that add to her magical charm.
Customize her with different hairstyles, accessories, and even interchangeable parts to recreate your beloved fantasy characters, making her truly one-of-a-kind.
The dolls showcase artistic sculpting and meticulous detailing. Including intricate facial features and other unique characteristics that make her stand out.
Fantasy Sex Dolls are often released as limited editions or exclusive collectibles, making her highly sought after by collectors and fans of specific dolls.
Our Dolls: Your Joy, Perfected!
Your Imagination, Our Creation: Customized Dolls Tailored to You – At Tebux, we bring your imagination to life. Our fully customizable dolls allow you to design a one-of-a-kind companion that perfectly aligns with your individual preferences. Let us turn your unique vision into a tangible experience.
Lifelike Sensations: Patented Skin for Unmatched Realism – Prepare to be captivated by the extraordinary realism of Tebux dolls. Our patented skin texture and elasticity are meticulously crafted to replicate the look and feel of genuine human skin. Immerse yourself in a world of lifelike sensations, where every touch evokes a sense of authenticity and connection.
Authentic Poses, Natural Movements: Unleash the Art of Poseability – With Tebux dolls, authenticity is in the details. Our sturdy metal skeletons enable natural poses and fluid movements, allowing you to explore a realm of creative expression. Whether striking a pose or engaging in dynamic interactions, our dolls effortlessly embody the essence of authenticity and bring your fantasies to life.
Crafted for Your Satisfaction: Quality Tested, Customer Approved – We take pride in our commitment to delivering top-notch products. Each Tebux doll undergoes meticulous testing to ensure exceptional performance and customer satisfaction. Rest assured that your doll has been crafted with care, precision, and a relentless pursuit of quality, guaranteeing an extraordinary experience.
Thoughtful Gifts: Bonus Gifts to Elevate Your Journey – As a token of our appreciation, we include a selection of thoughtful bonus gifts with every Tebux doll purchase. From essential cleaning tools to enhance maintenance to additional surprises that elevate your ownership experience, we aim to exceed your expectations at every turn.