Description
Summon up adventure with this incredible Yuna Sex Doll.
Final Fantasy 10 was a popular video game on the PlayStation 2. Now, you can experience your fantasies with a Yuna sex doll. Forget playing Blitz Ball with Tidus! Game Lady Dolls offers an amazing Yuna replica that looks so real. It can make your night wild and fun. Although it won't defeat Sin, it will definitely make you want more.
Summoning Up A Sexual Awakening!
The Yuna sex doll from Game Lady Dolls is super detailed and authentic. It represents one of the main heroes from Final Fantasy 10. She looks like she comes to life and starts doing one of her summoning dances to summon you to bed! This looks like she stepped out of the game and into your life. Yuna has a real natural beauty and that is something that they have nailed with the design of this high end sex doll.
The Most Beautiful Woman In Spira!
Yuna has the most detailed costume among all the female characters in Final Fantasy 10. What is so great about this is that Game Lady Dolls have managed to make it look authentic, but sexy at the same time. You'll wish you had a spell to remove her clothes when you see how it flows over her body. Game Lady Dolls understands that people want an authentic experience. They achieve this by paying close attention to detail.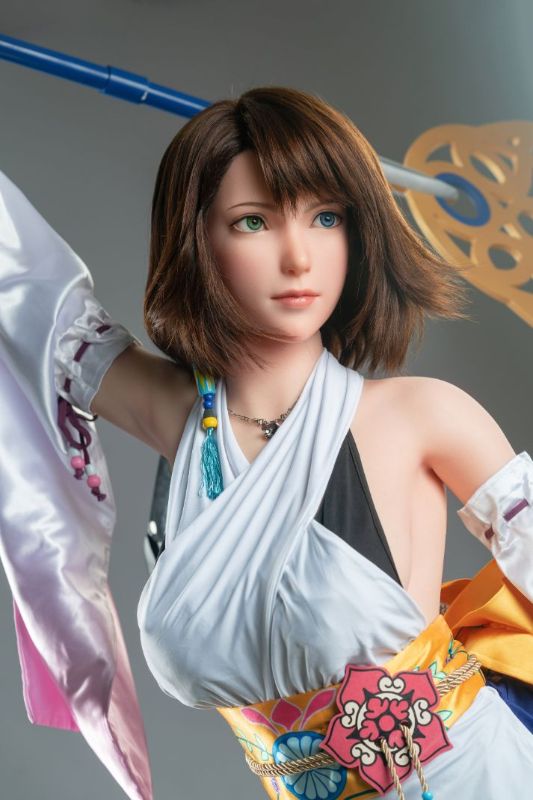 The Dance Of A Summoner
When you think of Yuna, you can't help but picture her cute face and her courage. You remember those epic dances that she would do to perform her summons. The Yuna sex doll can pose in exciting ways, recreating iconic moves from the game. The high quality designed joints that she has, allow her to pose in many different ways. While that is great for posing her as a collectible. It also means that you can get her into all kinds of amazing positions so that you can have some XXX fun!
Real As Can Be
The talented hands at Game Lady Dolls made this Yuna sex doll with skin that feels realistic. When you touch it, you'll feel like you're in Spira, on a mission to stop Sin. Don't worry about Wakka or Lulu getting mad at you for touching Yuna, like they would in Final Fantasy 10! Because the skin feels so realistic, every moment spent with her feels authentic. One great thing is that you don't have to worry about sharing fantasies with her. They made it easy to clean and maintain. To prepare for your next XXX encounter, she only needs a quick and effortless cleaning.
Yuna Sex Doll Features
Official partner with: Game Lady Dolls. Presenting full silicone Gaming Icons.

Fantasy sex dolls have designs inspired by gaming, TV series, and fantasy themes. Fans can make their favorite characters come alive. 

Combine them with a cosplay outfit for the ultimate experience.

The dolls showcase artistic sculpting and details. Facial features and unique characteristics make them stand out.

Collectors and fans love limited edition

fantasy

sex dolls, they are unique.
Tebux – Fantasy made Reality
Fantasy:

Our Tebux sex dolls make fantasies come true with amazing customization choices.

Lifelike Skin:

The Lifelike skin our love dolls have makes them feel real

Authentic Poses:

Our sex dolls have a unique skeleton that allows them to move in various poses.

Custom Made:

Check our 50 customization options and make your fantasy reality.

Quality Tested

: We test all Tebux sex dolls to ensure premium quality in every regard.

Satisfaction Guaranteed:

We want you to be completely satisfied with your sex doll. Your happiness is our goal.

Easy Maintenance:

Taking care of our premium sex dolls could not be any quicker or easier.

Free Shipping:

We offer free shipping all over the world!

Discreet:

Our packaging is very discreet. You can also use it to store your doll.

1 Factory:

Every part of your order comes from one factory, so you get top-notch quality and service.

Extra Gifts: We offer useful free gifts to help with the maintenance of your premium sex doll
Measurements: