Description
This Cammy sex doll lets you live out all of your wildest Street Fighter fantasies one Cannon Drill at a time!
When she was introduced in Super Street Fighter II, Cammy would go on to become a huge fan favorite. Not only was she hotter than fire thanks to that very "cheeky" revealing outfit that she wore, but she was also the most fun out of the four new characters to play as. Well, now you can have way more fun with Cammy in real life thanks to this Cammy sex doll than you will playing as her in Street Fighter 6!
English Elegance
Cammy is a very interesting video game character in that she looks tough as nails and as an ex-soldier, she actually is! However, this Cammy sex doll thanks to the very talented artist that brought her to life, manages to have a very sexy look to her as well. Her very serious expression also looks sexy, letting you know that she is going to be the one in charge during your rendezvous! There is a good reason why fans were so excited when she was shown to be one of the characters in the most recent Street Fighter game! People love Cammy and now you can have your very own Cammy at home to play with!
That Sexy Green Outfit
While fans were excited to see Cammy back in the new game, many were not happy that they covered that sweet butt of hers up! Thankfully, the talented team behind this epic Cammy sex doll, looked to her original costume for inspiration as she looks amazing in it and those perky, toned, and fleshy butt cheeks are on full display. No doubt, you will be ready for some action as soon as you get her out and ready, but do not be shocked if you end up taking a few moments to appreciate just how authentic and hot she looks in her Street Fighter gear! Bringing fantasy to reality is what these kind of high end sex dolls are all about and that is why so much effort is put into ensuring that they look as real as possible!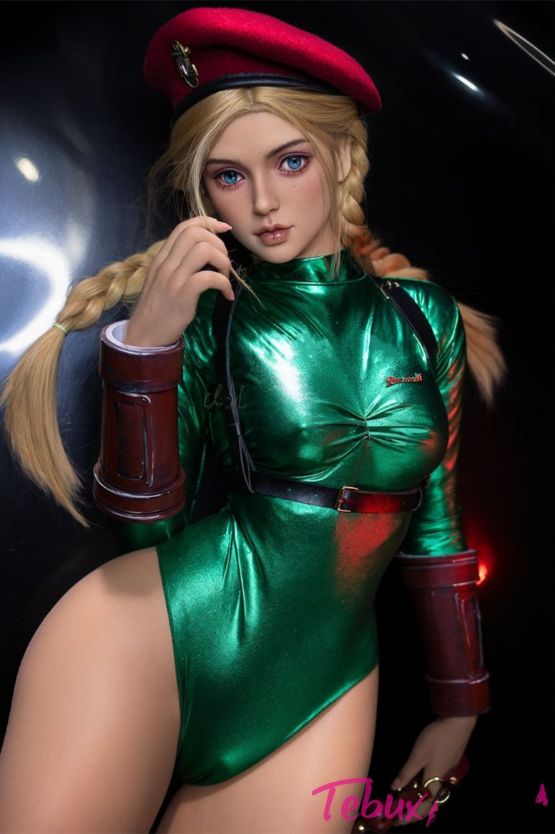 A Real Cannon Spike!
As you can see, this Cammy sex doll has been expertly sculpted to ensure that she has a strong and fit body. A huge part of the fun of spending some quality erotic time with her is that you can be very creative. The reason for this is that the amazing design of Cammy is not just skin deep! The advanced skeleton and joints inside of her ensure that she can be placed into all kinds of amazing and fun positions! This is great if you want to have a real athletic session with her like she no doubt used to with M. Bison! Plus, it means you can display her with her outfit on if you want a cool Street Fighter statue for your collection. It is worth noting that while Cammy is perfect as she is, you can make various changes to her as there are customization options available to ensure that this really is "your" Cammy.
The Real Feel Of Her Spinning Back Fist
As you can see from the very first image of this incredible Cammy sexy doll, this is one of the most amazing looking video game sex dolls ever created. Cammy looks like the real deal here and the way that they have captured her likeness and made her even sexier is amazing. Yet, this Cammy is not just easy on the eyes. The lifelike skin is the best on the market, making sure that when you touch her, she feels as real as possible! That lifelike skin is also very easy to look after as no matter how sweaty or messy your battle with Cammy is, keeping her clean and ready for your next round is as easy as can be. Cammy has been designed so that cleaning and looking after her is super simple!
After Street Fighter really blew up, Cammy was easily the biggest character to be added to the series after that original 12 in Street Fighter II. With this Camy sex doll, the most amazing fantasies that you had about spending time with her can now be as real as you want them to be. This is what all those hours practicing Dragon Punches, Sonic Booms and Spinning Bird Kicks have been for!
Advantages and Features of Fantasy Sex Dolls 
Fantasy Sex Dolls like Cammy come with imaginative and captivating designs inspired by gaming, TV series, and other fantasy themes, allowing collectors to bring their favorite characters to life.
She wears unique and elaborate outfits, featuring vibrant colors and fantastical elements that add to her magical charm.
Customize her with different hairstyles, accessories, and even interchangeable parts to recreate your beloved fantasy characters, making her truly one-of-a-kind.
The dolls showcase artistic sculpting and meticulous detailing. Including intricate facial features and other unique characteristics that make her stand out.
Fantasy Sex Dolls are often released as limited editions or exclusive collectibles, making her highly sought after by collectors and fans of specific dolls.
Our Dolls: Your Joy, Perfected!
Turn Your Dreams into Reality: Let your imagination run wild with our amazing customization options, allowing you to create unique dolls just the way you want them. Experience the excitement of turning fantasies into real-life wonders!
Unmatched Realism: Our Tebux dolls have an exclusive lifelike skin that feels incredibly authentic. Get ready for an extraordinary sensory experience that brings your fantasies to life like never before.
Natural Poses and Movements: Thanks to our sturdy metal skeletons, Tebux dolls effortlessly maintain natural poses and movements. Enjoy seamless interactions and immersive experiences that feel remarkably real, all thanks to our innovative engineering.
Rigorous Testing for Your Happiness: We are dedicated to quality, and each Tebux doll undergoes extensive testing to ensure top-notch performance. Your satisfaction is our number one priority.
Bonus Gifts for Your Convenience: As a token of appreciation, we offer seven free gifts, including essential cleaning tools. We believe in providing a complete package that enhances your ownership experience, making it even more enjoyable and stress-free.
Measurements: