Description
A new world awaits you with this Princess Jasmine sex doll!
 One of the hottest animated fantasy women of all time is Princess Jasmine! She is sexy and smart and she is also rich so she can pay for dinner before you hook up with her! This Princess Jasmine sex doll will fulfill all your fantasies! The cosplay babe pays great attention to detail and will fulfill your wishes. No need for three wishes from a Genie.
If Jasmine Were Real!
Bringing a fantasy to reality is what a high end sex doll like this is all about. This Princess Jasmine sex doll is not designed to resemble her animated look. But a real princess come to life. She looks beautiful and that seductive look in her eye will make you fall in love with her! You can change the words of the song "Friend Like Me" to "Friend With Benefits Like Me" with Princess Jasmine.
The Finest Fabrics In Agrabah!
Since Jasmine is a princess, it makes sense for her to wear the most stylish outfit designed in Agrabah. The Princess Jasmine sex doll is fun and sexy because her face and outfit are seductive. She is wearing something like her usual attire, but the dress is see-through and reveals a lot. The top she has on is stunning and provides excellent support for her large breasts. Make your dreams of spending the evening with Princess Jasmine come true!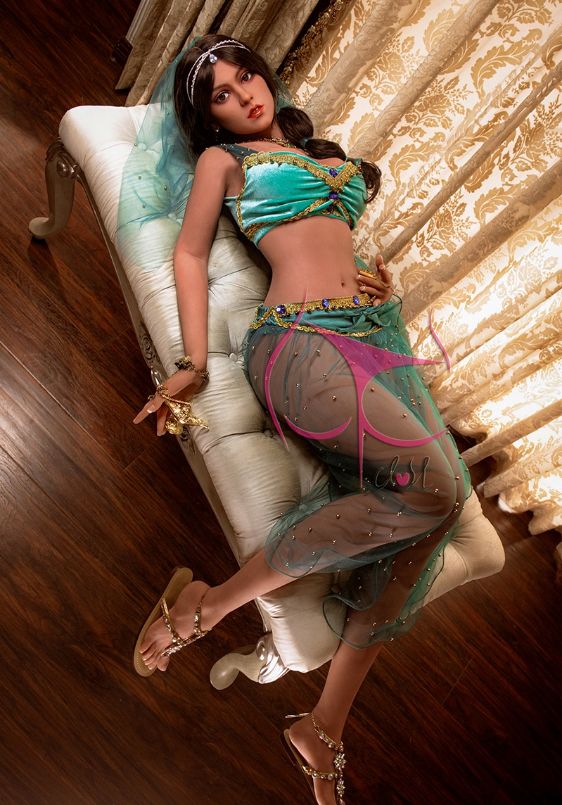 She Can Show You The World!
This Princess Jasmine sex doll has a strong metal skeleton that will take you to the Cave of Wonders. Her well-designed skeleton allows you to pose her in any erotic position you desire. As the Princess of Agrabah, it's natural to assume she knows the Kama Sutra. Spend an unforgettable evening with her and practice those amazing erotic positions.
Like Smooth Caramel
This Princess Jasmine sex doll has incredible realistic looking and feeling skin. When you first touch her, you'll love how natural she feels. Her skin design gives her a unique and exotic look compared to other high-end sex dolls. You might think you need to hire a cleaner at the Agrabah Palace to make her skin smooth, but that's not true. She is low-maintenance, so cleaning her for your next royal event is a breeze!
Jasmine Sex Doll Features
Make her special by modifying her with our 50 customization options.

Fantasy sex dolls have designs inspired by gaming, TV series, and fantasy themes. Fans can make their favorite characters come alive. 

Combine them with a cosplay outfit for the ultimate experience.

The dolls showcase artistic sculpting and details. Facial features and unique characteristics make them stand out.

Collectors and fans love limited edition

fantasy

sex dolls, they are unique.
Tebux – Fantasy made Reality
Fantasy:

Our Tebux sex dolls make fantasies come true with amazing customization choices.

Lifelike Skin:

The Lifelike skin our love dolls have makes them feel real

Authentic Poses:

Our sex dolls have a unique skeleton that allows them to move in various poses.

Custom Made:

Check our 50 customization options and make your fantasy reality.

Quality Tested

: We test all Tebux sex dolls to ensure premium quality in every regard.

Satisfaction Guaranteed:

We want you to be completely satisfied with your sex doll. Your happiness is our goal.

Easy Maintenance:

Taking care of our premium sex dolls could not be any quicker or easier.

Free Shipping:

We offer free shipping all over the world!

Discreet:

Our packaging is very discreet. You can also use it to store your doll.

1 Factory:

Every part of your order comes from one factory, so you get top-notch quality and service.

Extra Gifts: We offer useful free gifts to help with the maintenance of your premium sex doll
Measurements: