Description
Edith is a sexy TPE sex doll – Looks and Feels as Real as Possible!
If you want as close to the real thing as you can get then a TPE sex doll is exactly what you have been looking for! Edith has a natural seductive and sexy look that is going to completely blow you away. She has a bit of a sophisticated look about her. Kind of like she loves to read a good book one minute and then get down and dirty the next. She is a large sex doll, perfect for those who want a high-end doll that looks and feels real.
Class And Style!
Edith has a very classy and stylish look about her. When creating Edith, makers wanted her face to be seductive and sexy to match her lifelike body. The talented sculpture has given Edith a natural and very "real" look to her face. She has the look of a real woman that you could meet in a coffee shop or at the farmer's market. Sure she looks classy, but there is something in her eyes that lets you know she is wild in the sheet!
Better Than Real!
One of the best things about Edith is that as she is a TPE sex doll, she is made to be as real as possible. You could even say she's better than a real woman. She never says no or asks you to pay for dinner or a cab after you've hooked up. Edith is a large sex doll with a body that is as close to being life-size as you can get with a premium quality sex doll. If you have wild sexual fantasies, this is perfect for you. It's a high-end, larger sex doll. Edith's height isn't the only thing that's "large." She also has huge breasts that will be lots of fun to play with. You can customize Edith to make her perfect for you by adding fun options.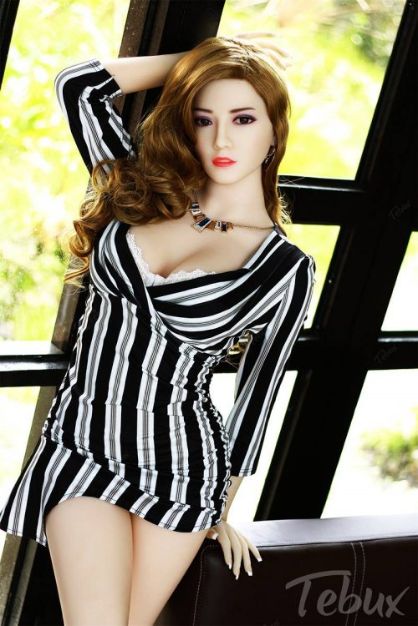 She Knows What You Like!
With Edith being a large sex doll, each hookup you have with her is going to feel like you are with an actual woman! Like all TPE sex dolls, her design aims to fulfill people's dreams and desires in the bedroom. Underneath that lovely light skin of hers is the most advanced skeleton around when it comes to a sex doll. This allows you to pose Edith in any kind of position that you desire. If there has been something you have always wanted to try, now you can and Edith will not complain or judge you for it! If anything, each session you have with Edith is going to increase your confidence in the bedroom!
The Perfect Touch
You can see that Edith with her sexy face, amazing shapely body, and huge breasts is one heck of a looker. This TPE sex doll is not there for you to look at and pose! Thanks to that amazing TPE (Thermoplastic Elastomer) skin that she has. Edith feels as close to the real thing as possible. That means each touch and each thrust will feel incredible and make you feel like you are with a real woman. Bringing your sexual fantasies to life is what a sex doll like Edith is all about. And thanks to her realistic skin that is exactly what she is going to help you to do. When it comes to keeping that amazing skin of hers clean, you will love how quick and simple it is. Edith is easy to clean after a wild and hot session!
TPE Sex Doll Features
Our large sex dolls are approximately 165cm tall, making her look like a real person.

Fans love her lifelike features: facial details, body shape, and realistic skin texture.

Her size is realistic and can therefore pose in all life-like ways.

Made with the best materials, so she lasts a long time. Collectors and doll lovers will love her.

The bigger size of our

large

dolls make them realistic. Fans love the weight distribution, body, and appearance.
Tebux – Fantasy made Reality
Fantasy:

Our Tebux sex dolls make fantasies come true with amazing customization choices.

Lifelike Skin:

The Lifelike skin our love dolls have makes them feel real.

Authentic Poses:

Our sex dolls have a unique skeleton that allows them to move in various poses.

Custom Made:

Check our 50 customization options and make your fantasy reality.

Quality Tested

: We test all Tebux sex dolls to ensure premium quality in every regard.

Satisfaction Guaranteed:

We want you to be completely satisfied with your sex doll. Your happiness is our goal.

Easy Maintenance:

Taking care of our premium sex dolls could not be any quicker or easier.

Free Shipping:

We offer free shipping all over the world!

Discreet:

Our packaging is very discreet. You can also use it to store your doll.

1 Factory:

Every part of your order comes from one factory, so you get top-notch quality and service.

Extra Gifts:

We offer useful free gifts to help with the maintenance of your premium sex doll.
Measurements: