Description
With this Ciri sex doll, you can embark on an adventure way more sexual than you ever could in The Witcher 3.
There are not many fantasy adventure RPGs that are more epic than The Witcher 3 and one of the greatest, most popular, and sexy characters is Ciri. The team at Game Lady Dolls has perfectly replicated what makes Ciri so amazing with their Ciri sex doll. With this, you can go on the ultimate Witcher adventure and you could even finish the training that Geralt started only your training would be way more XXX. Just make sure you treat her right as you do not want Geralt coming after you!
Strong, Sexy And Stylish!
What makes a Game Lady Dolls product stand out from the rest is the authenticity. With this Ciri sex doll, you have the most lifelike Ciri product you can ever have! It is truly outstanding how close to her in game character model she looks! It is like she has leaped out of the screen of The Witcher 3 and into your bed! Her face has been captured perfectly and there are not many characters out there that can walk that fine like of looking serious and like they are ready to fight and also seductive at the same time. Ciri is a warrior first and foremost and that is captured perfectly right here.
The Finest Cintra Has To Offer
While Ciri is a princess, she is really a warrior and it is her embracing of her destiny that makes her so appealing and sexy to people all over the world. Game Lady Dolls have really taken their work to the next level with this Ciri sex doll as the outfit that she is rocking could not be any more authentic to her look in The Witcher 3. Those tight pants really do show off her strong and toned legs, but that white shirt she is wearing is just begging for you to rip it open and see what she has to offer. A huge reason why this is one of the most premier sex dolls around is that it truly does look like the real thing, there is no other way that you can come this close to having an erotic adventure with Ciri.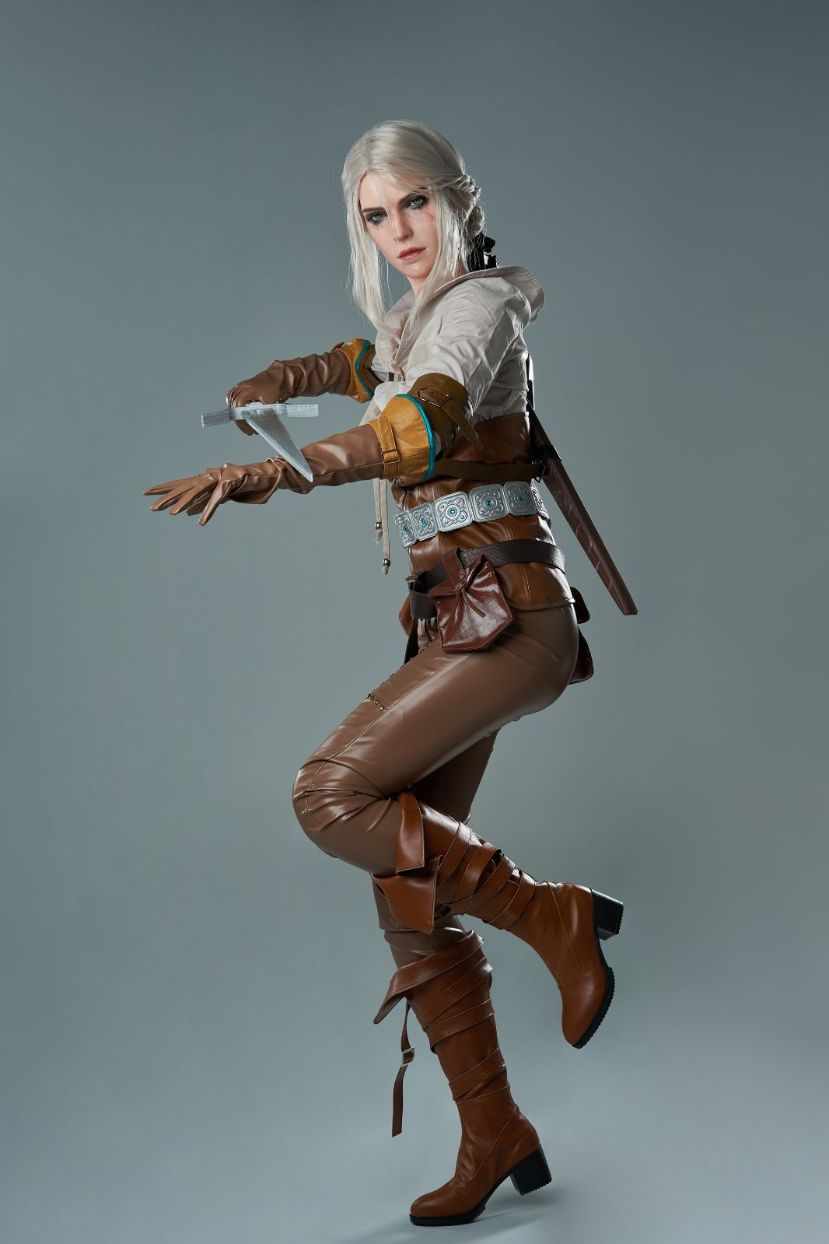 Ready For War And Romance!
When you think of Ciri the first image that probably comes to mind is her standing in a fighting stance with her sword Zireael looking all badass and sexy at the same time. As Game Lady Dolls know exactly what they are doing any amazing pose that Ciri does in the game can be brought to life with this Ciri sex doll as the sophisticated engineering on her joints and skeleton allows you to pose her in any way that you like. Of course, while making her look just like she does in The Witcher 3 is great. You can have some epic XXX fun with her by posing in her all kinds of hot positions! Just do not be surprised if Ciri wants to take charge!
The Lady of Worlds
While Ciri may be known as The Lady of Words, thanks to the realistic feeling skin that Game Lady Dolls have used on this Ciri sex doll, touching her will feel well and truly out of this world! This skin is as close to the real thing as you can get, there is truly nothing closer! That means every sexual adventure that you go on with her will feel so incredibly real that you will think that you have been swept into the world of The Witcher 3. Now, we all know that Ciri takes no nonsense so you have to make sure you look after her just right. Thankfully, Game Lady Dolls designs all of their high end sex dolls so that they are very easy to clean and maintain. No matter how wild your adventure is and how excited she gets you, cleaning up so she is ready for the next adventure is as simple as can be.
If you are a huge fan of The Witcher 3 and have always thought that Ciri was one of the most amazing and sexy characters, this is the ultimate purchase for you. There is nothing about this Ciri sex doll that will not blow your mind! While having amazing, exciting, and fantasy fulfilling quality time is what this is all about. She looks so real that just having her on display in your game room would be amazing too. Step into a realm of unparalleled fantasy and desire with the captivating Ciri Sex Doll. Crafted to embody every facet of allure and intimacy, this exquisite creation draws inspiration from the mystical universe of The Witcher 3, transforming your deepest fantasies into breathtaking reality.
Advantages:
Official Partner With: Game Lady Dolls. Presenting full silicone Gaming and TV-serie Icons.
Mystical Allure:

Cirilla captures the enchanting essence of the iconic character, inviting you to indulge in a realm of otherworldly pleasure.

Impeccable Craftsmanship:

Meticulously designed and manufactured to reflect the remarkable details of Ciri, this doll promises an immersive experience like no other.

Personalized Fantasy:

Tailor your experience to your desires as you explore a world where reality meets the extraordinary, ignited by the legendary aura of Ciri.

Unforgettable Encounters:

Elevate your intimate moments with a companion that embodies the spirit of adventure, turning every encounter into an unforgettable journey.

Empowerment and Connection:

Embrace the embodiment of a fierce and powerful character, fostering a deep connection that goes beyond the physical realm.
Features:
Lifelike Reproduction:

Intricate facial features, body proportions, and attire capture the essence of Ciri with uncanny precision.

Premium Materials

: Constructed from high-quality, body-safe materials for a lifelike and comfortable experience.

Poseable Articulation:

Discover a range of poses and positions that enhance your moments of fantasy and connection.

Exquisite Details:

From the flow of hair to the texture of the skin, every detail pays homage to the character's portrayal in The Witcher 3.

Interactive Design:

Interact with a partner that responds to your touch, creating an immersive and engaging experience.
Elevate your desires and kindle the flames of imagination with the Ciri Sex Doll. Immerse yourself in a world where fantasy becomes reality, guided by the allure of The Witcher 3's captivating character. Indulge in the adventure you've always craved, where intimacy and mystique unite in a creation designed to redefine pleasure and connection.