Description
Embrace Seduction and Beauty – Ada Wong Sex Doll
Representing our Ada Wong Sex Doll! While Krauser may have referred to our lovely Ada as "the bitch in the red dress". There is no way that you will not love the beauty and elegance of this amazing lifelike sex doll. She looks like she jumped straight out of Resident Evil 4. And she is ready for you to give her a new mission, no matter what that may be. 
Seductive Poses, Ready For Action!
The Ada Wong sex doll has a strong metal skeleton. You can pose her in badass or seductive poses, like in the Resident Evil games. The sculpture is incredible, it looks very realistic. It will be the main piece in any collection. It is strong enough to protect against zombies, BOWs, or Umbrella goons. Of course, her flexible skeleton and silicone skin allow her to pose in fun and erotic positions. This makes any interaction with her amazing.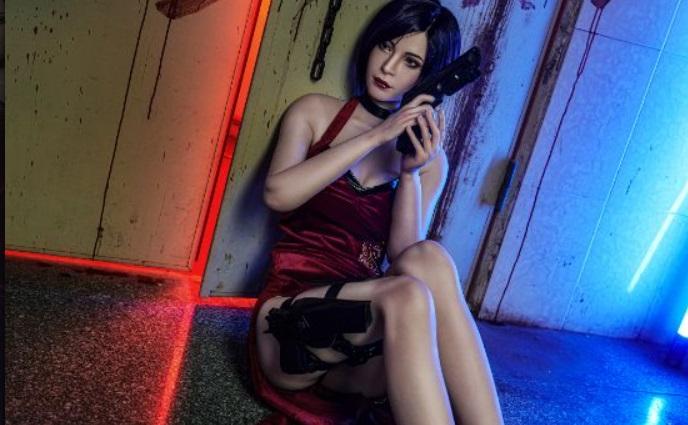 You Can Look, But You Can Also Touch
You might not agree with Krauser's description of Ada. But our Ada Wong sex doll looks amazing in her iconic sexy red dress. She looks as good posed with this authentic looking costume as she does out of it! When you touch her, her skin and hair feel smooth and realistic, like the real Ada Wong. Game Lady Dolls have gone above and beyond with this to ensure that it looks and feels as close to real as possible! Resident Evil fans will be well and blown away by the level of authenticity here. 
No Need To Go Separate Ways Here!
When you think of the perfect Ada Wong sex doll, you envision her fair skin, attractive face, and tight red dress. At Tebux, we ensure that you get the right doll for your needs. This means if you want to tinker with Ada as if you were an Umbrella scientist in a secret lab, you can do that. No matter where you are, whether it's Racoon City, a secret lab, or at home, this Ada Wong sex doll is perfect for fans. It's an epic collectible that you can display and interact with, and it looks sexy too.
Ada Wong Sex Doll Features
Official partner with: Game Lady Dolls. Presenting full silicone Gaming Icons.

Fantasy sex dolls have designs inspired by gaming, TV series, and fantasy themes. Fans can make their favorite characters come alive. 

Combine them with a cosplay outfit for the ultimate experience.

The dolls showcase artistic sculpting and details. Facial features and unique characteristics make them stand out.

Collectors and fans love limited edition

fantasy

sex dolls, they are unique.
Tebux – Fantasy made Reality
Fantasy:

Our Tebux sex dolls make fantasies come true with amazing customization choices.

Lifelike Skin:

The Lifelike skin our love dolls have makes them feel real

Authentic Poses:

Our sex dolls have a unique skeleton that allows them to move in various poses.

Custom Made:

Check our 50 customization options and make your fantasy reality.

Quality Tested

: We test all Tebux sex dolls to ensure premium quality in every regard.

Satisfaction Guaranteed:

We want you to be completely satisfied with your sex doll. Your happiness is our goal.

Easy Maintenance:

Taking care of our premium sex dolls could not be any quicker or easier.

Free Shipping:

We offer free shipping all over the world!

Discreet:

Our packaging is very discreet. You can also use it to store your doll.

1 Factory:

Every part of your order comes from one factory, so you get top-notch quality and service.

Extra Gifts: We offer useful free gifts to help with the maintenance of your premium sex doll
Measurements: